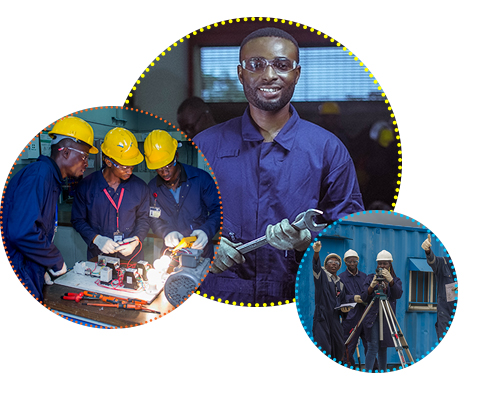 BVC is duly accredited and recognised by the National Board for Technical Education (NBTE), National Business and Technical Education Board (NABTEB), the Rivers State Ministry of Education, the City and Guilds of London Institute, and the Institute of Leadership and Management, London.
The Centre offers a range of courses in different occupational areas such as Building Construction, Business Support Skills, Catering and Hospitality, Mobile Crane Operation, Electrical Installation, Fabrication and Welding, Forklift Operation, Health and Safety, ICT Professional and Support Systems, Instrumentation and Process Automation, Mechanical Plant Maintenance, Metal Machining, Pipefitting, Plumbing, Refrigeration and Air-conditioning, Rigging and Slinging, and Scaffolding.
Business Support
FULL TIME/FLEXIBLE MODE
Mechanical Maintenance
Level 3 Diploma in Engineering IVQ Maintenance, Installation and Commissioning
Refrigeration and Air Conditioning
Level 3 IVQ Advanced Diploma in Refrigeration and Air Conditioning
IT System Support
Level 3 IVQ Advanced Diploma In IT Systems Support
Fabrication & Welding
Level 3 Diploma Engineering IVQ Fabrication and Welding (2850-85-87)
Catering & Hospitality
Level 3 Advanced Diploma in Food Preparation and Cookery Supervision
Building Construction
National Innovation Diploma in Building Construction
Electrical Installation
Level 3 IVQ Advanced Diploma in Electrical Installation
Fundamentals of Pipefitting
provides an introduction to the equipment and the practices involved in pipe fitting procedures
© 2019 BVC Bonny. Technical Skills for Sustainable Development.
23 Online courses BVC students.